FREE SHIPPING for order A$44.00 or above today!

You can
personalise your Birthday Card
by clicking any product image.
Artfia Birthday Card
Birthday Cards from Artfia
One would always want to get a lovely birthday card design. Everyone dreams of a design that would make his day. Now with the power of technology, we can get the best designs online.
Many times a situation arises that you need a birthday card and you are either short of time or busy doing it physically. Ecommerce has emerged as a savior in such a situation. Online birthday card design is an important affair. You need cards to give to your friends and loved ones. Through this, you want to convey your feelings and emotions to them. And this is why it becomes more special and it becomes essential to get help from an online birthday card maker.
In Artfia, by using our online DIY birthday card tool, you can personalise practically any birthday card as you want. Once the design is done, we'll even have your custom birthday card delivered to you anywhere in the world. So get creative and let your imagination run wild with your emotions and feelings embodied in your personalised card.
read more...
less...
Reviews
Birthday Card
2022-02-24 | By Lavinia Lin
Excellent quality and the card is printed as what I have designed!
Birthday Card
2021-11-29 | By Chung Pui Ha
the card is very impressive, thank for the great work!
Birthday Card
2021-10-17 | By Rachel Lyn
Great quality! Recommend their personalised card!
Birthday Card
2021-08-27 | By Andy Key
Ordering is a little 'clunky' compared to other similar sites and maybe range could be expended. That being said fulfilment very good 👍
Birthday Card
2021-06-10 | By Andy Key
I found the customisation tricky and saving to return to not entirely user friendly
Birthday Card
2021-05-24 | By Brijalben Patel
Awesome!!
Birthday Card
2021-04-24 | By Mae Britten
decent quality, arrived within promised time frame
Birthday Card
2021-03-30 | By 卓冠平
讚
Birthday Card
2021-03-30 | By 卓冠平
讚
Birthday Card
2021-03-15 | By Carmen Chan
Product delivered as expected. Great quality.
read more...
less...

Wide range of images available for free
Fresh new photos, illustrations and icons added regularly and carefully selected by our dedicated team, so that your Birthday Card can feature the best images.

Birthday Card templates designed Professionally
Artfia has hundreds of templates designed by our team of professional designers. You'll have a custom Birthday Card in minutes with our user-friendly drag and drop features.

Easy drag-and-drop tools
Artfia's drag-and-drop editor is designed to enable anyone including design novices to create beautiful and professional Birthday Card designs. Add, remove or re-position elements, change fonts and colors and add more pages.
Printing Birthday Cards
Artfia also features a high-quality printing service allowing you to bring your birthday card design into reality and give a decent gift with blessing to your friends. We will print your birthday card at a reasonable price and with prompt delivery to your chosen address.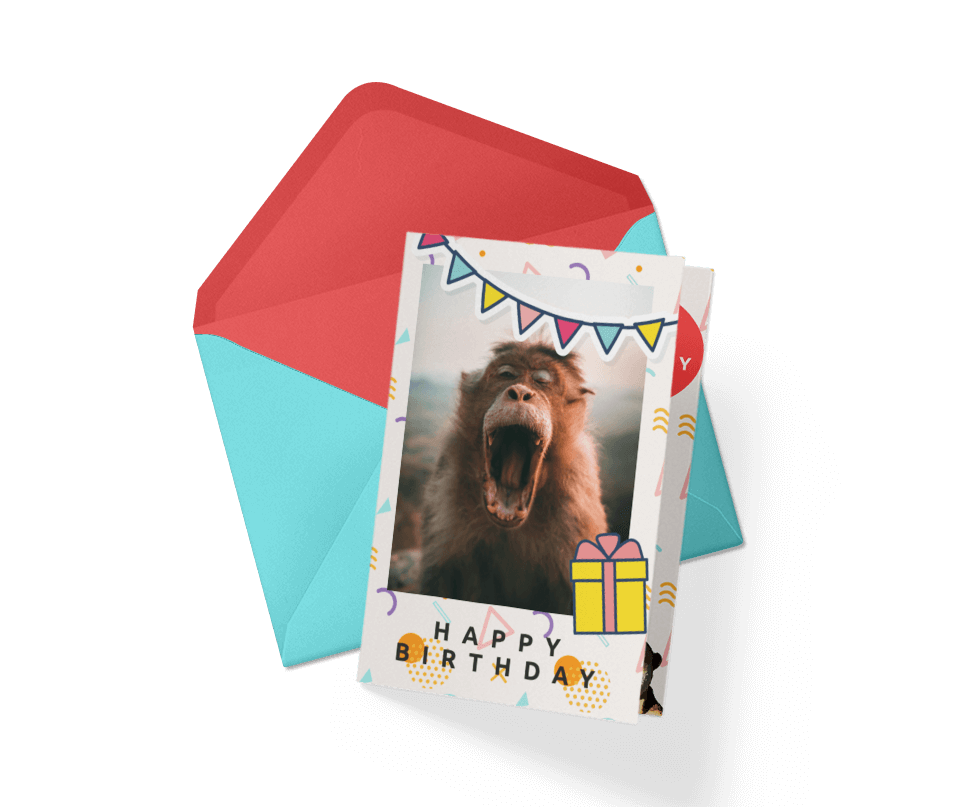 Autosave
In Artfia, you never have to press "Save". Our system will automatically save your amendment on the birthday cards. You do not have to worry about losing important changes just because you forget to click "Save". It makes you easier to work.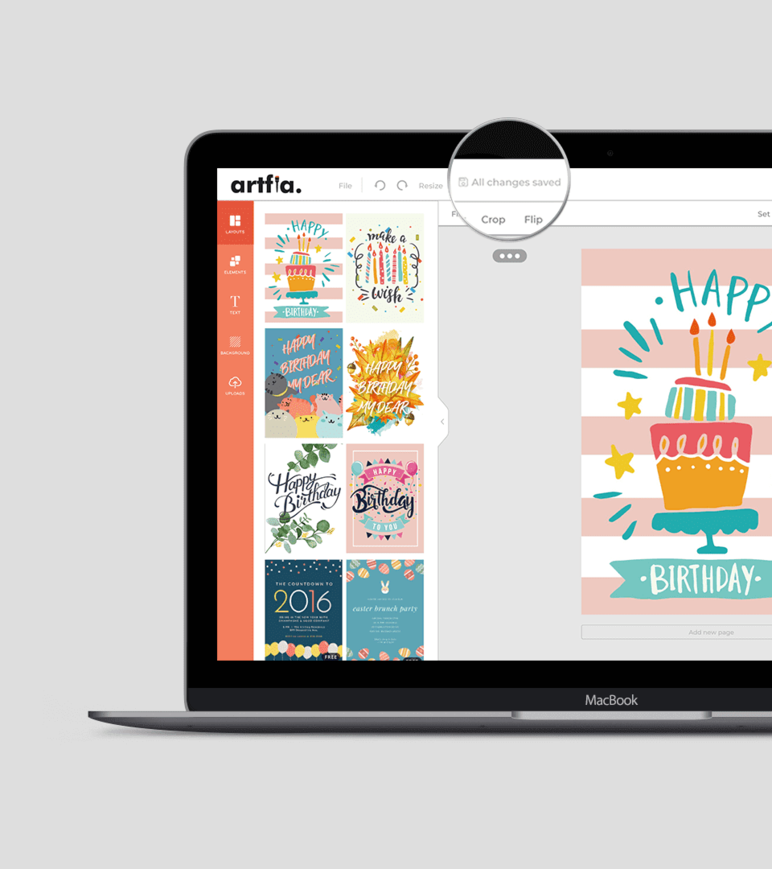 FAQ
Can I add a personal photo on the birthday card?
Definitely. Click "Upload", choose a photo from your devices, or drag and drop it to Artfia side bar. To apply the photos to your design, what you need is just to drag a photo onto the design interface. All uploaded photos can be used repeatedly.
How many times can I edit and save my design?
Artfia does not have limitation on this. You can edit and save the invitation card template as many times as you like.
Where can I find my saved designs?
You can find the saved templates under "Saved Designs" in "Your Designs" tab.
Can I send the birthday card to my friends via digital channels?
Yes. Click "Publish" and you can see different options of digital channels such as WhatsApp, WeChat, Facebook to send the card to your friends. You can also download the card as PNG, JPG or PDF format and share the file to them.