FREE SHIPPING for order HK$250 or above today!

You can
personalise your Name Cards
by clicking any product image.
Artfia Name Cards
Name Cards from Artfia
Want to stand out amongst your peers and competitors? Artfia's easy-to-use design tools can help you create and design a name card to set yourself apart from your peers and competitors. If you're looking for inspiration, we have a collection of great templates available at your disposal. With our vast experience in creating name cards in particular, our design tool offers a number of cool effects, fonts and graphics for you to choose from. Our instant preview tool allows you to see exactly how your custom name card will look like once we print it for you.
Our World-Class Printing Services
When it comes to printing out your bespoke, premium-quality business card, we use only the finest inks and offer a range of paper types and finishes from matte-silk to ultra-thick. We also can add special effects such as gold-foil stamping or embossing for you to make that important first impression.
read more...
less...
Reviews
Name Cards
2021-03-09 | By Leung Leong
Nice Printing and good service
Name Cards
2021-01-25 | By Au Wai Keung Henry
好靚
Name Cards
2021-01-12 | By Manchun Ho
很好
Name Cards
2020-08-19 | By Joey Ngai
It looks so beautiful and the price is so reasonable!
Name Cards
2020-04-08 | By Sammi
Wonderful business cards and birthday cards. They are always happy to help if needed.
Name Cards
2020-04-06 | By Joe
Fantastic first experience doing business cards of my own.
Name Cards
2020-04-02 | By Lester
Fantastic first experience doing business cards of my own.
Name Cards
2020-04-02 | By Stanley
Fast delivery and super quality! Love my cards:)
Name Cards
2020-03-30 | By Patrick
I love the Save Design Feature, it makes reordering so much easier. My cards look excellent, and the value to price is exception! Great website!!
Name Cards
2020-03-29 | By Hannah
I chose a card that is appealing and which catches everyone's attention. Immediate turn around delivery and economically sensible cost. Definitely exceeded my expectation
read more...
less...

Wide range of images available for free
Fresh new photos, illustrations and icons added regularly and carefully selected by our dedicated team, so that your Business Card can feature the best images.

Business Card templates designed Professionally
Artfia has hundreds of templates designed by our team of professional designers. You'll have a custom Business Card in minutes with our user-friendly drag and drop features.

Easy drag-and-drop tools
Artfia's drag-and-drop editor is designed to enable anyone including design novices to create beautiful and professional Business Card designs. Add, remove or re-position elements, change fonts and colors and add more pages.
Print Your Business Card Design Out
Turn your designs into reality and ensure they make an impact by selecting your ideal card paper type. We guarantee that your business card designs will be printed perfectly at an affordable price, and with prompt delivery to your chosen address.
Satisfaction guarantee, we're determined to print business cards that you'll love.
With three paper options—Standard 350gsm, Textured 350gsm and Signature 400gsm—plus a range of finishes, Artfia print has a business card to suit everyone. We deliver to your door within 3-5 days.
Autosave
To design business cards on Artfia, you never have to press "Save". Our system will automatically save your amendment. You do not have to worry about losing important changes just because you forget to click "Save". It makes design easier.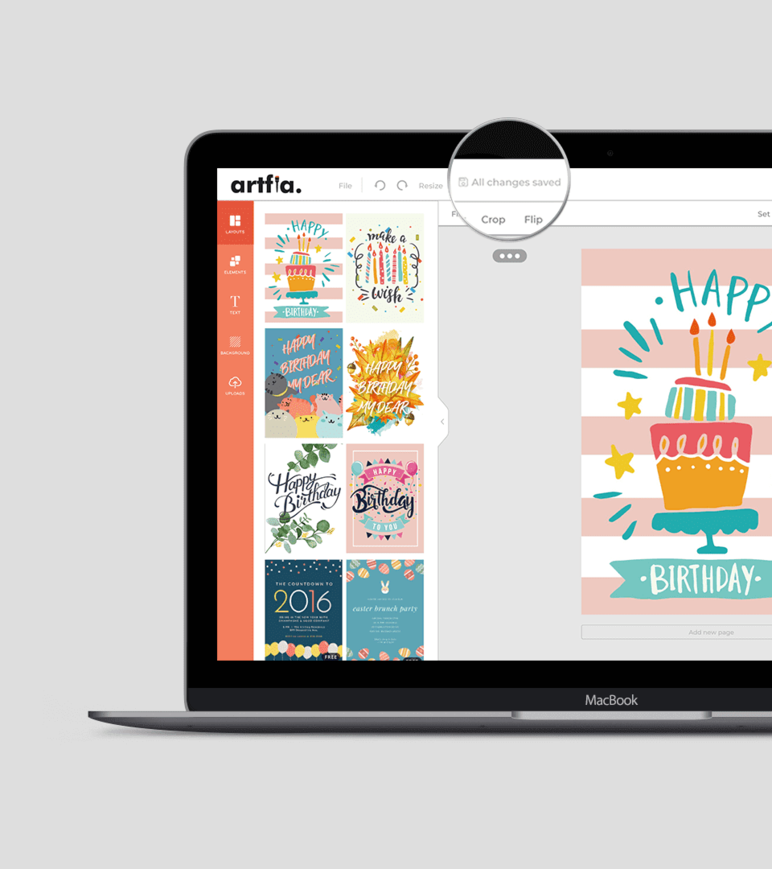 FAQ
What is the size of business card template on Artfia platform?
The standard size of business card template is 90 x 54mm, which is able to show all your important personal details.
How much does Artfia charge for designing a business card?
Artfia offers a free version. No matter how many materials you use, we do not charge you any fee.
How many times can I download a business card design?
For free version, each account is authorised to download with a limit of 100 times.
Can I upload a company logo?
Definitely! You can upload logos in JPEG and PNG to Artfia. All uploaded logos can be used repeatedly
How can I share my business card design to social media channels?
Press "Publish" in the upper right corner to share the design to social media channels such as Facebook and Linkedin.