FREE SHIPPING for order S$44.00 or above today!
Cards & Invitations

You can
personalise your Cards & Invitations
by clicking any product image.
Artfia Cards & Invitations
Cards & Invitations from Artfia
Getting a warm and striking invitation card online is a lovely affair. And with the advancement in technology, it has become possible. Invitation cards design has not only remained the medium of conveying the event schedule to your guest. It is a goodwill gesture and shows your intent and affection with them. In current times this is a matter of pride and status. This is why people like to get the most advanced and decorated.
The invitation design is a crucial aspect of any of the events. May it be an event like a wedding, corporate event, educational institutes functions, anniversaries people engage an invitations maker. But one needs not to worry as the internet is flooded with several designs and catalog. One can choose according to his desires and budget.
In Artfia, by using our online invitations DIY tool, you can customise practically any invitation cards as you want. Once the design is done, we'll even have your personalised invitations delivered to you anywhere in the world. So get creative and let your imagination run wild with your emotions and feelings embodied in your cards.
read more...
less...

Wide range of images available for free
Fresh new photos, illustrations and icons added regularly and carefully selected by our dedicated team, so that your Invitation Card can feature the best images.

Invitation Card templates designed Professionally
Artfia has hundreds of templates designed by our team of professional designers. You'll have a custom Invitation Card in minutes with our user-friendly drag and drop features.

Easy drag-and-drop tools
Artfia's drag-and-drop editor is designed to enable anyone including design novices to create beautiful and professional Invitation Card designs. Add, remove or re-position elements, change fonts and colors and add more pages.
Print out and share your invitation card
You can even print out your invitation card with high-quality paper stock and finishes directly through Artfia. If you make this selection your invitation card will be printed perfectly, to a professional standard and at an affordable price, and will then be promptly delivered to your preferred address.
In addition to printing it out, you can also download your invitation card as a JPEG or PNG image, so you can send it out on email or via social media too.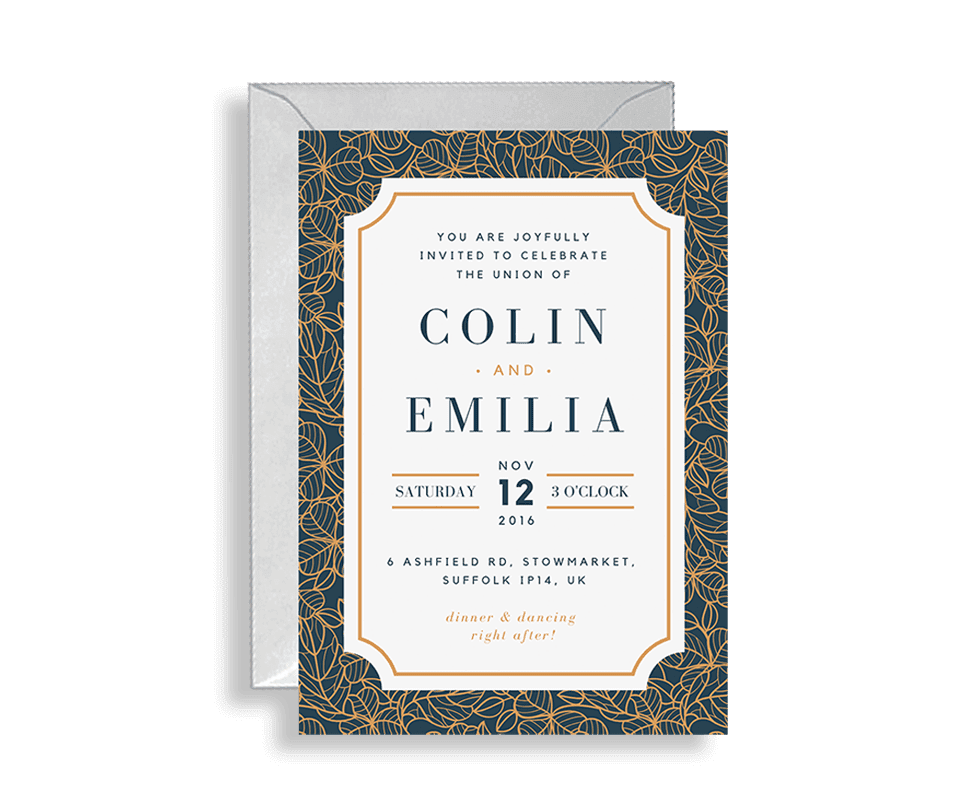 Autosave
To design invitation card on Artfia, you never have to press "Save". Our system will automatically save your amendment. You do not have to worry about losing important changes just because you forget to click "Save". It makes design easier.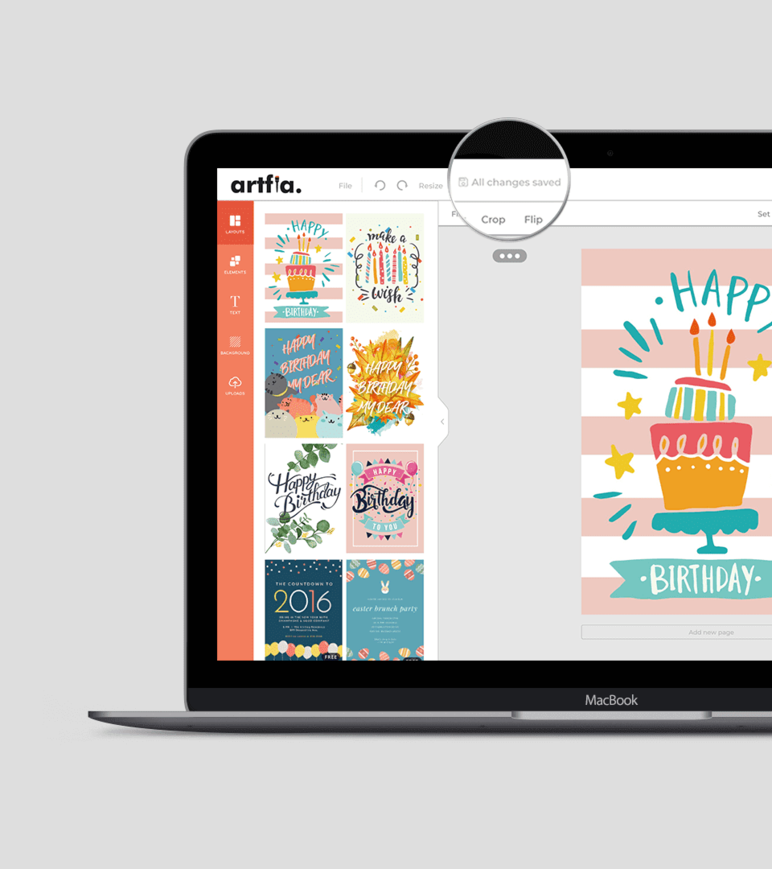 FAQ
How many times can I edit and save the invitation card template?
Artfia does not have limitation on this. You can edit and save the invitation card template as many times as you like.
Yes! Our platform is highly user friendly. You can upload any JPEG or PNG image from your collection. Click "Upload an image" button in the "Uploads" tab and choose the image you love. Then you are able to edit it.
Where can I find the saved templates?
You can find the saved templates under "Saved Designs" in "Your Designs" tab.
How can I invite my friends or colleague to edit my invitation card?
Click "Share" and you can send an invitation to your friends or colleague via email. By clicking the shared link, they can access to and edit the invitation card in Artfia.